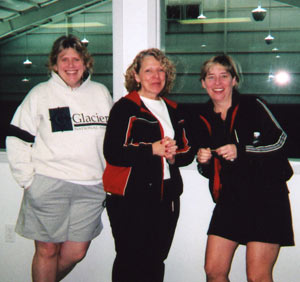 Our Adult schedule includes programs for adults of all ages and abilities at various times throughout the day and week to fit into your busy schedule. If there is something we don't offer at a time that is convenient for you, please let us know. The following is a sampling of some of our most popular programs and services.
PLAY TENNIS FAST! (Tennis for beginners)
Clinics, Round Robins & Lessons
Cardio Tennis
Mixers & Tennis Parties
Early Morning Tennis
Leagues
Contracts
Partner / Program Matching
A true tennis novice might begin with our PLAY TENNIS FAST programs for adult players who have never (or nearly never) picked up a racquet. This program is very affordable, and designed to give beginner players an idea for the game before they decide whether to commit to club membership and a more regular schedule of clinics and play time.
Play Tennis Fast is offered:

Mondays 6:30 p- 7:30 pm
Wednesdays 9 - 10 am, or 6 - 7 pm
Saturdays 11:30 am - 12:30 pm
Contact us if you are interested in the program but these times don't work for you - we will try to find something that works!
$159 / 8 week session, which includes:
Players may repeat the program. 2nd time through the program is $179 with 1 hour of ball machine time. 3rd time through the program is $199, no ball machine time. Instructor reserves the right to let you know it's time to graduate to the next level program!
Play Tennis Fast 2
For PTF graduates looking for more! $199/8-week session
Offered:
Wednesdays 10-11 am
Thursdays 6:30 - 7:30 pm
Saturdays 11:30 am - 12:30 pm
EIGHT-WEEK SESSION DATES FOR PLAY TENNIS FAST (You can still get in mid-session as long as there is room in the class! We will just pro-rate the session price for you.)
Session 1: 9/11 - 11/5
Session 2: 11/6-12/22 (no 11/23)
Wednesday & Saturday classes will be a 7-week session; Thursdays will be a 6-week session
Session 3: 1/2-2/25
Session 4: 2/26 - 4/22
Session 5: 4/23-6/17
Session 6: 4/15-5/26

CLINICS, ROUND ROBINS & LESSONS
From there, a tennis player might progress to one of our many pre-scheduled group clinics or round robins, or participate in their own private or semi-private lesson. We offer clinics, round robins and lessons for men & women at all tennis levels. Contact us for a schedule of pre-programmed clinics and round robins or to schedule your own.
For those looking for a great workout along with strategy pointers – at all tennis levels, we recommend our Cardio Point Play Clinics. Available in 1-hour or 90-minutes sessions, we guarantee to get your feet moving and your heart pumping in these fast-paced, match play-focused clinics. Our Cardio Point Play clinics provide a great opportunity for a workout that will no doubt improve your overall game AND fitness. And, it's FUN, FUN, FUN ….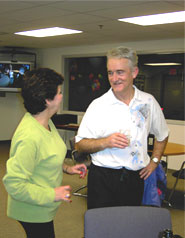 Our Friday mixers provide a great opportunity to unwind and put those tennis skills to the test! Our mixers are offered every Friday night at 7 pm from Labor Day through May, with the first Friday of each month taking on a more competitive mixed doubles format. Join us for some great tennis, good company and delicious pizza. You are welcome to bring your own choice of refreshment to enjoy with the pizza and your Enfield Tennis Club friends. If you choose, you can also watch your favorite game on our TV while relaxing on our sofas!
Join our Early Birds if you are interested in regular play first thing in the morning. We offer round robin play at 7 am – seven days a week! Some lively conversation and coffee often follows these early morning sessions. Our Early Bird Membership package includes unlimited court time year-round from 7 – 9 am.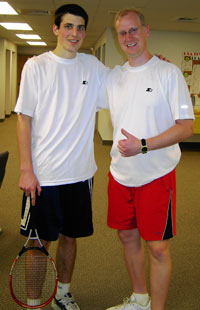 If you are looking for organized, competitive play opportunities, our club hosts several USTA league teams from both the Western Massachusetts and Northern Connecticut areas. If you are looking for a team, or have a team and are looking for a home – Adults of all ages - Men, Women or Mixed, 2.5 – 4.5, let us know!
CONTRACTS
For those interested in playing with their team members and friends on a regular basis, group contracts are available. Contracts enable groups of players to reserve a court at the same time each week for our 36-week "prime" season. Our tennis pros are also available to teach groups during their contracted times.
If you are looking for a match, clinic or program – but don't have a partner or opponent, or don't see something that coincides with your skill and schedule – let us know. We will do our best to find you a partner, or put together a clinic to meet your needs. We also have ball machines, so if you are interested in hitting with a ball machine at any time, please let us know when you book your court.
And, as if that isn't enough, see our Special Events, Parties & Other Services page. We offer lots of special events – tournaments, round robins, mixers and parties – throughout the year. There is never a dull moment at The Enfield Tennis Club because WE LOVE THIS GAME!